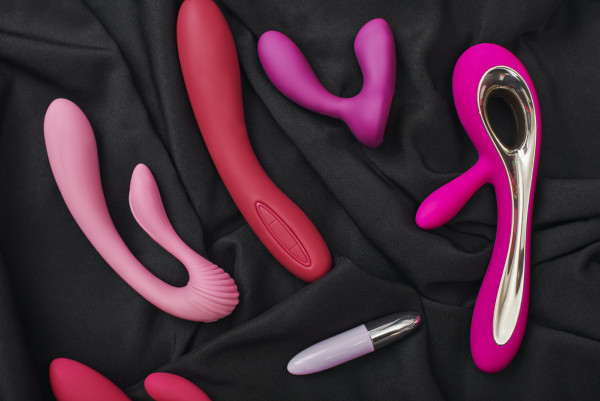 At some point, rubbing your clitty through your panties, although a kinder, gentler and much more feminine approach to sexual satisfaction; when it comes right down to it—it still can have the feel of way-too-much-masculinity.
Let's be honest sweetie: unless you are able to remain completely limp while nubbing, direct stimulation of your sissy clit is not supportive of your sissification process.
And we both know what is, don't we darling? Yes, cumming by anal penetration only. Mentally moving your primary erogenous zone rearward, across the perineum to your sissy pussy.
Achieving a sissygasm is, without a doubt, the platinum pinnacle of sissification.
While the term sissygasm can mean different things to different sissies, for our purposes we're going to keep things simple: obtaining a sissygasm through direct stimulation of the prostate gland.
This can be accomplished with your finger, a real cock, a dildo or—what we're going to talk about here today—a prostate massager.
The P Spot Explained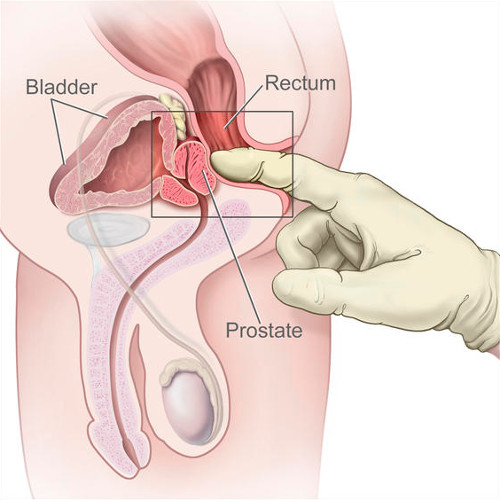 Before we get into the specifics of prostate massagers, let's take a closer look at this so-called P-Spot. The prostate is a male sexual gland located at the anterior portion of the rectum, two to three inches in. It's roundish/oval shaped about the size of a walnut.
By massaging the P-Spot, it's possible for a sissy (or even a real man) to achieve some sort of sexual release. This release can be in the form of a ruined orgasm or something even more intense and fulfilling—a sissygasm. The exact type of release a sissy experiences is unique for her.
One thing than seems to be in consensus: however the sexual release decides to manifest, the shiver-shattering, explosive experience can come in continuous, whole-body-waves that are much more powerful than a typical male orgasm ever could be.
So much so that, once a sissygasm is experienced, no sissy ever wants to go back to the old way. Sissy sex is simply—better sex.
With stimulation of the P-Spot, the resulting releases are of the non-refractory type. There is no cool-down or recovery period, which will allow you to experience multiple orgasms, just like some GG's can pull off.
For a sissy that was previously experiencing issues with her gender identity, a sissygasm will push (if not shove) her nearer to the feminine edge of the gender spectrum.
Like already mentioned above, there is more than one type of toy that can produce a sissygasm. A prostate massager—more often than not—is the quicker and easier path to get you to the promised land.
There are some sissygasm purists that contend that using a prostate massager, rather than a dildo, is somehow cheating. Fuck that! I say let's use whatever works.
The Best Prostate Massager
Vibrating vs Non-Vibrating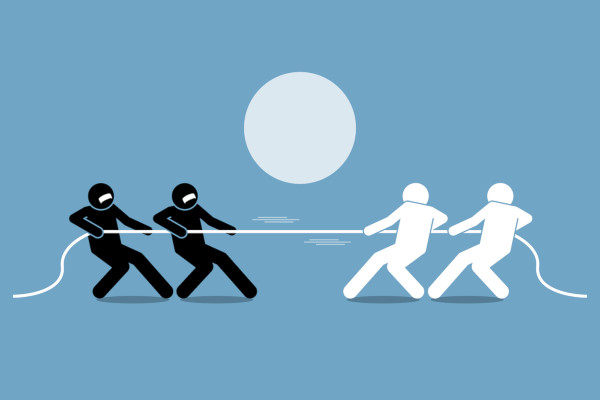 When it comes to prostate massagers, you have two varieties to choose from—vibrating and non-vibrating. While it may seem like a slam dunk between the two (the vibrating version has gotta be better, right?), let's take a peek under the hood before making any rash buying decisions.
Sure, a prostate massager with a motor that makes it move—taking up much of the work-load—may seem better, but not necessarily so. Keep one important aspect in mind… they're going to cost more than a non-vibrating anal stimulator.
Also, you're going to be limited by it's programmed vibrating capabilities. If you require it to move in a specific way in order to satisfy your P-Spot, you could be disappointed. That being said, 90% of the time, it's vibrational offerings will more than adequately fulfill your sissy sex needs.
Vibrating/Rotating Head Prostate Massagers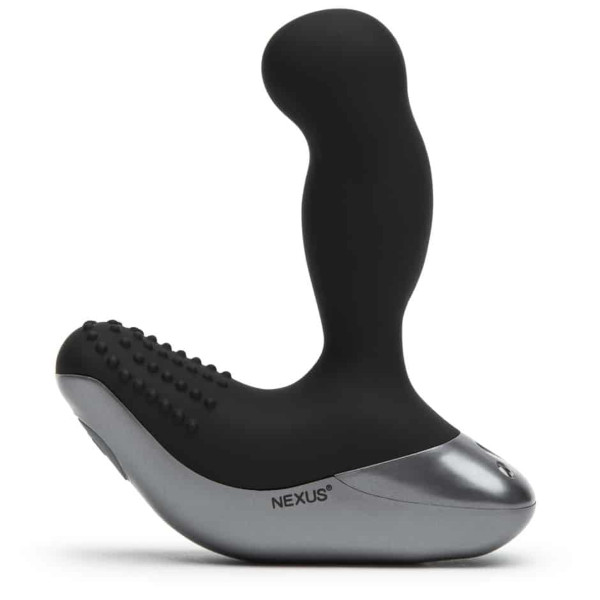 Using a real-life-in-person example, I own a Nexus Revo 2 rechargeable, rotating prostate massager (exactly like the one pictured above). It was pricey: $179 but worth every damn dollar. The head has 2 rotating speeds. The perineum vibrator has both steady and pulsating settings.
Doing the math means that there are a total of six rotational/vibrational/pulsating patterns. More than enough to keep this sissy satisfied.
The thing is: do you really need the rotating feature, and the increased price that goes along with a sex toy like this? The answer is: you really don't. Having the head of the prostate massager going round-and-around is nice—very nice! But it's an unnecessary luxury that a sissy can easily do without.
It's most definitely not an essential feature to have in order to enjoy a satisfying sissygasm. Plus, the rotating head means more moving parts and possibly more mechanical problems down the prostate stimulator path.
Vibrating Prostate Massagers
Let's talk now about the more affordable vibrating prostate massagers that don't have the rotating head feature.
If I were going to buy one today, I would probably choose a vibrating massager without the rotating feature. A well-made unit that would fall into a lower price range. Something like this one: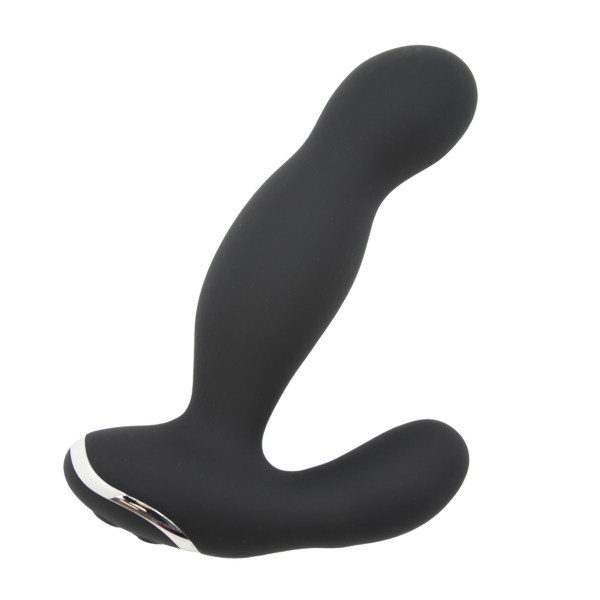 This Tala Vibrating Prostate Massager is rechargeable and you have the option of cycling through several pulsating patterns. You can find it over at TooTimid.
If you're looking for something simpler, then this EZ Reach Prostrate Probe might be more appropriate. It's a three-speed, battery operated toy. It even comes with a suction cup!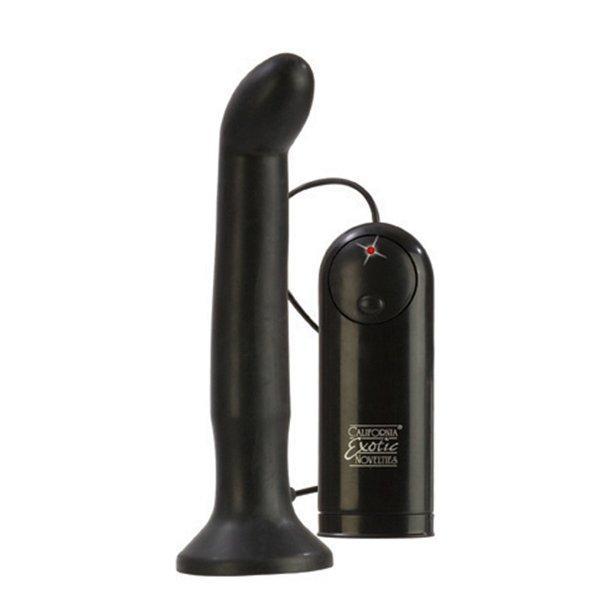 Staying with the simple theme, the Dev's 10 Function Prostate Stimulator might be right up your-you-know-where. Like the EZ Reach above, the Dev's 10 is battery operated model.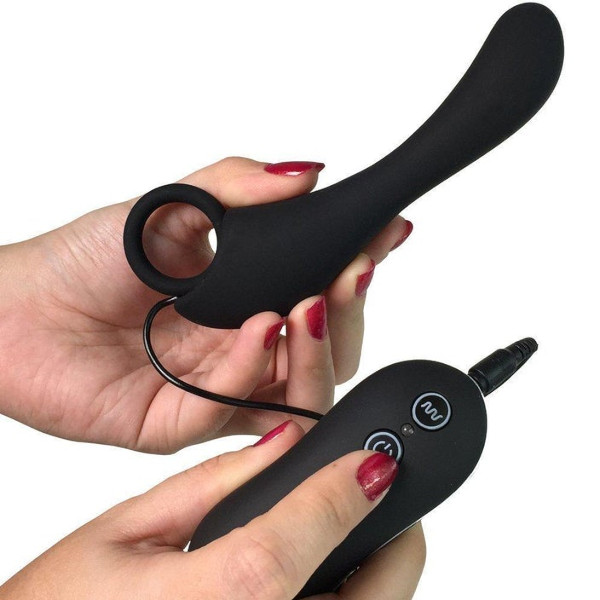 The "10" stands for ten vibrating, pulsating, escalating actions that you can experiment with. As you can see, it comes with a pull-ring at the base of the shaft for easy insertion and removal.
If 10 functions are too many, and you would prefer to have a more traditional looking prostate stimulator (if there is such a thing), then this 7 function model, pictured below, might appeal to you.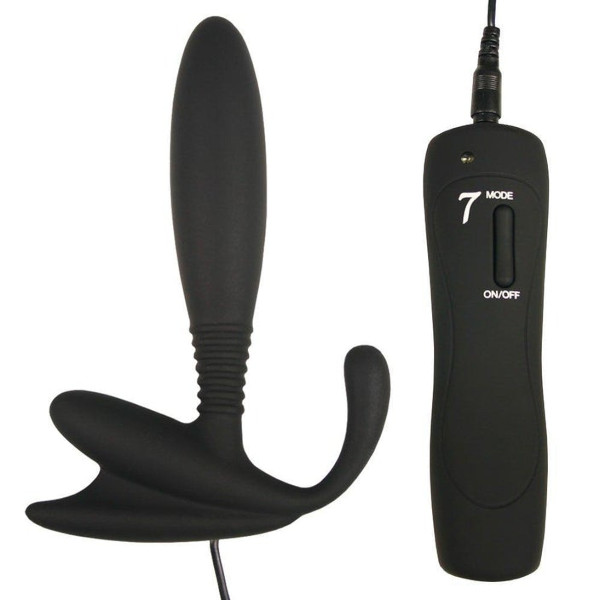 This prostate stimulator/toy is a battery operated, remote controlled model that has 7 multi-function vibrations. Check it out here.
All three of the previously described prostate stimulators have an external battery source. That means there's a wire involved—that could get in the way.
If you'd prefer not to mess around with a wire, then this single-speed, wireless Vibrating Prostate Stimulator could be the one for you. That's it below.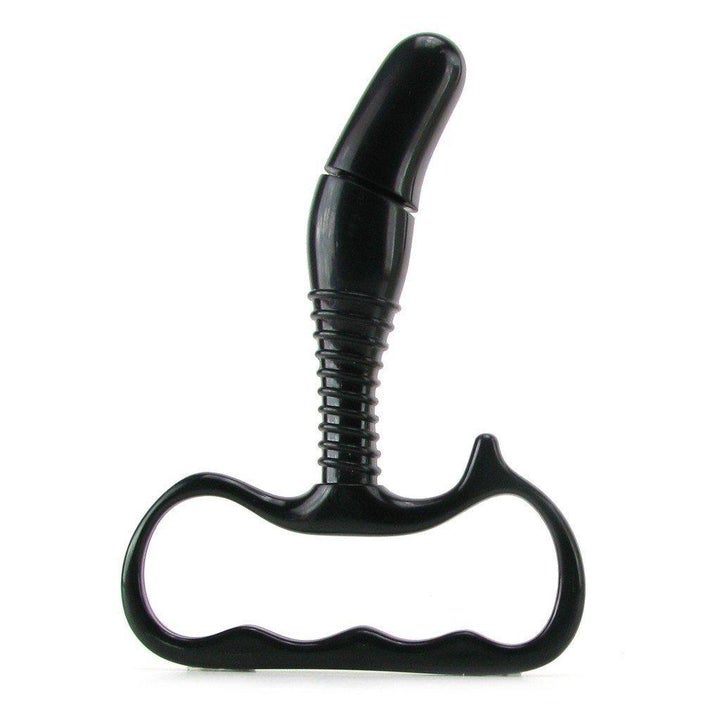 Everything is located within the head of the unit. The easy-to-grip handle makes for a more controlled orgasmic experience.
If you'd prefer to pursue your sissygasms in the tub, you're gonna need a waterproof prostate massager that is designed to perform in a wet environment. Like this one: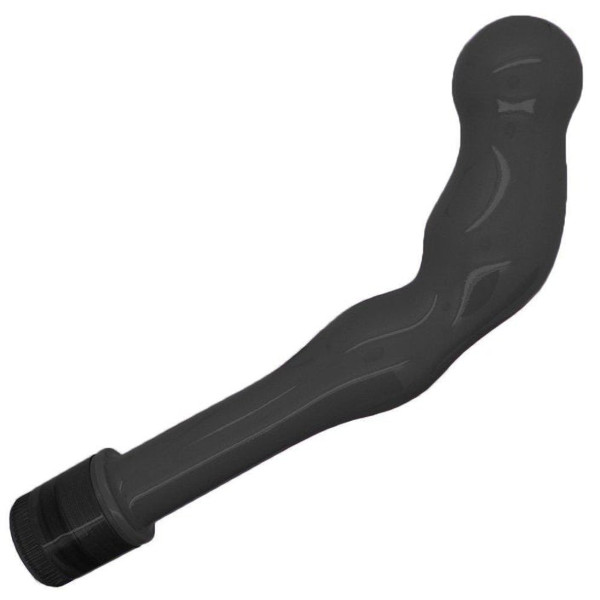 Sometimes a warm bath is what you want to create the relaxing atmosphere necessary to get off. An underwater release we'll call it.
Perhaps you would like some extra attention payed to your sissy clitty while your prostate is being stimulated. No one will blame you for that princess. This dual-ring vibrating model will provide you with exactly what you're looking for.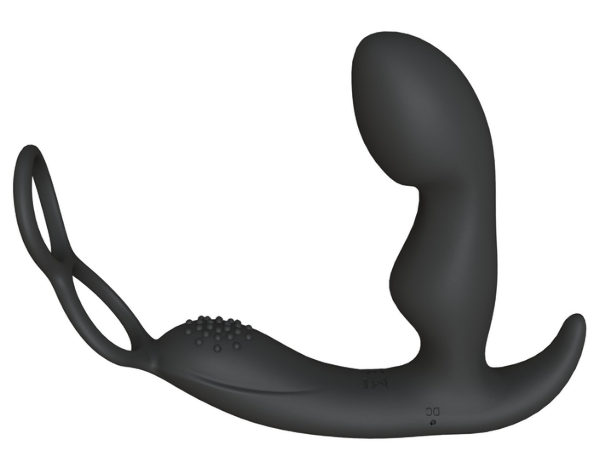 This rechargeable, wireless-remote-controlled vibrating prostate massager has a couple of rings: one for your clitty, and one for your… well, you know what. The 8 powerful vibration functions are designed to send you to sissy nirvana.
While many sissies swear by the various types of vibrating prostate massagers that are available, there are other sissygasm aficionados that prefer going old-school.
Non-vibrating Prostate Massagers
Something can be said for having ultimate control. While sissies would prefer to being the one controlled, when it comes to achieving a sissygasm, direct manual manipulation of the sex toy is sometimes desired.
That's where hand-held prostate massagers excel. You can reposition the toy and move it around at your discretion.
A great place to start would be with this basic prostate stimulator pictured below.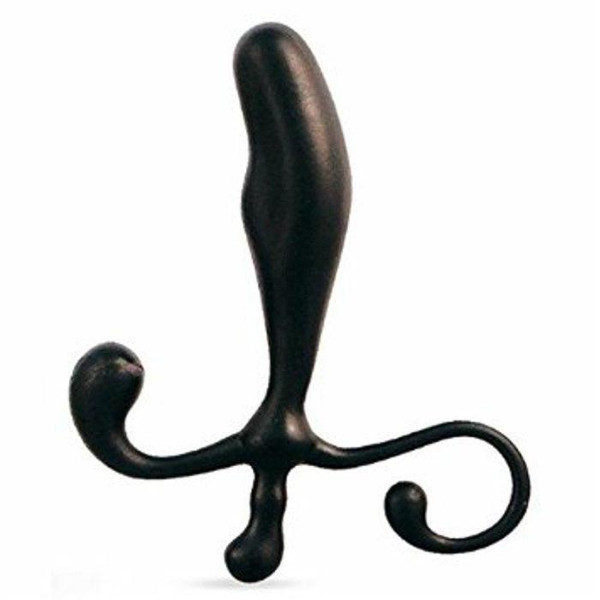 It's amazing what one can experience using a simple, and inexpensive prostate massager like this one. From a purest's perspective, this is all you will ever really need.
Keeping things even more pedestrian, you might wanna go for the Kip's Silicone Prostate Massager. As you can see, it sports dual ticklers at the base in order to stimulate the perineum while the head is doing its thing.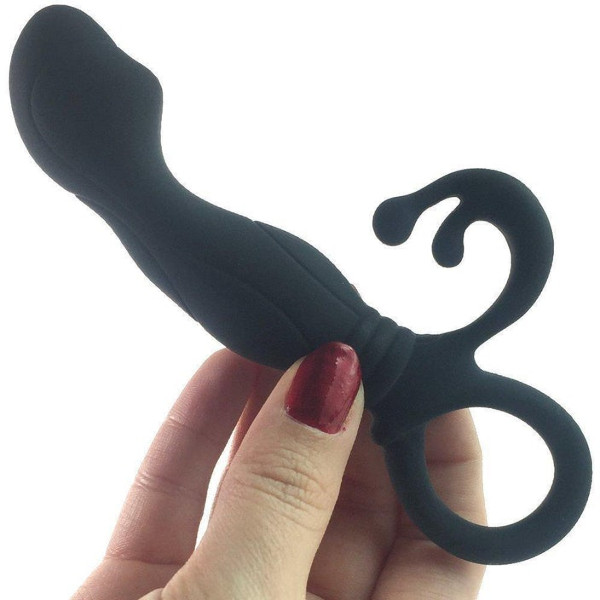 This silicone prostate stimulator also has a conveniently placed pull-ring for easy manipulation (and eventual removal).
Below you'll see this flexible silicone prostate massager. This anal toy is unique because of it's ribbed neck for enhanced stimulation in the right place.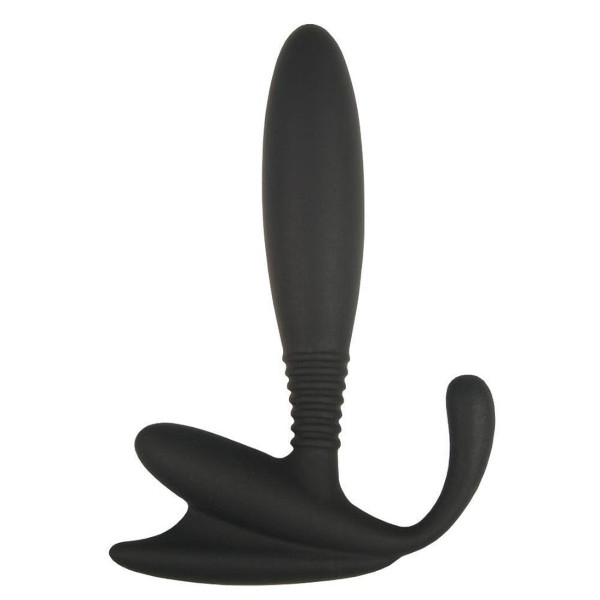 That same narrow ribbed neck also allows for increased flexibility—for increased pleasure.
Most prostate massagers have a shaped head designed to specifically stimulate the prostate gland. For sissies looking for a more realistic shape, the curved, flexible prostate toy pictured below has more of a traditional looking style.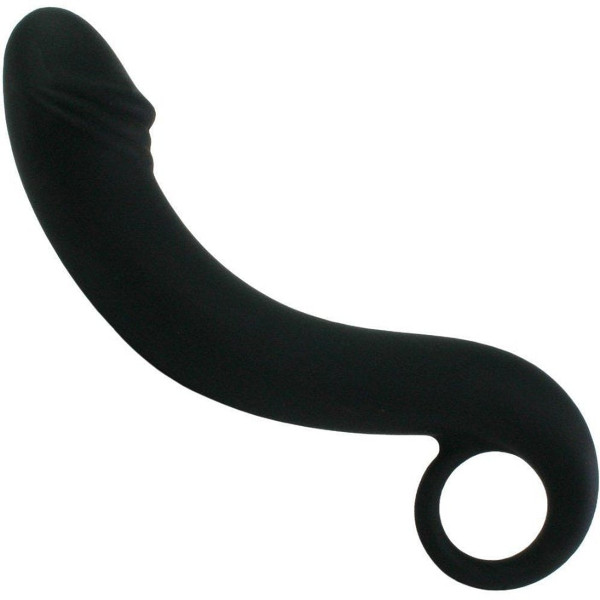 It's shaped with a natural curve along with a more realistic looking head. If you think about it, that's how sissies achieved anal orgasms before the invention of sex toys—by using the real thing.
If you would like to separate yourself from silicone, and maybe experiment massaging your prostate using different temperatures, then you might be interested in the Glass Anal Slider.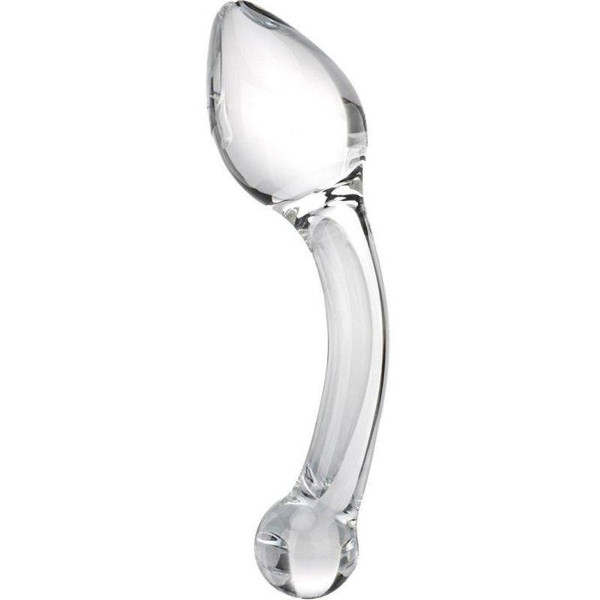 It's made from safe, fracture-resistant glass. Just as importantly, you can either heat it up, or cool it down, to your preferred temperature.
What Do All of These Sissy Prostate Massagers Have in Common?
Above, I've briefly gone over 7 vibrating prostate massagers and 5 non-vibrating. They all have certain characteristics that make them unique. So what could they possibly have in common?
All of the links to the above prostate stimulators point to the same company: TooTimid.com. I don't mind pointing out that I have an affiliate relationship with them, which means that I will make a small commission if you click and wind up buying something on this page.
There are three, very good reasons to buy your sissy sex toys through TooTimid.
I's where I buy my sex toys (call me anything, but not a hypocrite)
They ship fast and discretely
TooTimid was founded by—and is run by—women
For some reason, that last point turns me on. As a sissy, maybe it does you too.
In any case, I hope this article on sissy prostate massagers was helpful and maybe help you reach that ever-elusive sissygasm.