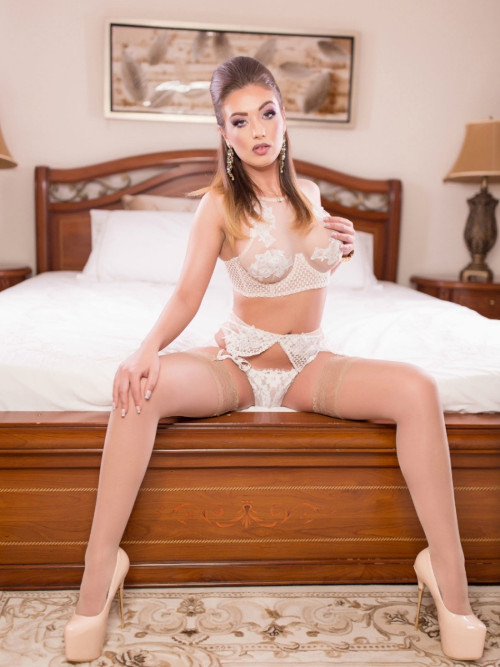 It can be said that sexy lingerie to a sissy is like whipped cream to strawberry shortcake. A sissy without at least one matching bra and panty set would be like an Eskimo without an igloo. The truth is that sissies and lingerie go together like… okay, okay, enough of the mediocre metaphors.
Seriously, lingerie is very close to the top of the list of 'must have' feminine attire as a sissy begins to accumulate a feminine wardrobe. One problem is that lingerie, like most other women's clothing, can be expensive for a girl just starting out on her sissification adventure.
Enterprising merchants have capitalized on the burgeoning sissy market so you will not find it difficult to come across several places online where you can buy stunning sissy lingerie. There are two main ways to go:
Regular women's lingerie
Specialty sissy lingerie
Initially, you may be inclined to look past genetic girl's feminine undergarments since most every sissy is painfully aware that girls are built differently than boys. Women's clothes, in general, are obviously not designed to fit a biological-born-male properly. But remember, we're not talking regular women's clothing here—were interested in lingerie for sissies at the moment.
The big difference between the two being that bras, panties, baby dolls, nylons and garter belts are, for the most part, smooth and stretchy. Their more-or-less elastic qualities will likely conform to your sissy body—whatever shape it's in—just fine. The advantages of choosing regular women's lingerie over specialized sissy lingerie are:
Greater availability
Lower prices
You'll feel more feminine wearing lingerie designed specifically for females
Of course there will be more bras and panties to choose from simply because there are a greater number of real girls compared to us sissies. A specialized sissy store caters to the exclusivity factor which, because of the perceived greater value, leads to sissy lingerie prices rising faster than a homesick angel.
There is certainly a case to be made for buying other types of sissy things at a store that caters specifically to sissies but, when it comes to sissy lingerie, not really so much.
What about the so-called sissy type of panties that are designed with a pouch or extra material so as to accommodate the presence of male junk. To me, that's missing the whole point of sissification.
Proper feminization necessitates showing a flat, feminine front to the world, which means tucking your sissy clitty back between your legs. A traditional pair of women's panties, depending on the cut, will hold things back in place just fine.
Bra's of course are a different animal in that you can buy the type with pockets that are designed to hold breast forms. If you are to the point with your sissification endeavors that you are ready for breast forms, then a special sissy or crossdresser store might be an appropriate choice for you.
Personally, my breast forms fit perfectly fine in a regular, unpadded bra. An underwire bra is important as it will tend to support your fake tits from the bottom. You would be surprised how much a pair of good quality silicone breast forms weigh.
From my experience, the padding in a padded bra will just be in the way. Your forms provide all of the volume you need, and then some!
Overall, if price and selection is an important factor for you, then you will be better off sticking to regular women's shops when looking for sissy lingerie.
Why Sissies Prefer To Buy Their Lingerie Online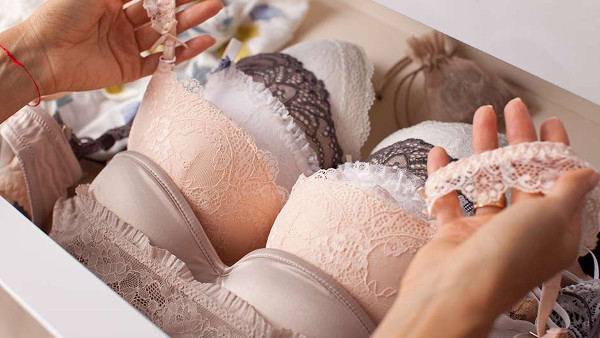 People, in general, love to purchase stuff online because it's terribly convenient and the shipping times can be pretty damn fast now-a-days. Sissies shop online for the same reasons but also because… they can remain incognito and avoid the awkwardness, embarrassment and sometimes the humiliation that comes with dealing directly with retail sales people, who are typically women.
But there are some seriously sound reasons for you to NOT shop online sweetie. Your sissification program is a process. Part of that process is to slowly but steadily began to embrace the fact that you are a girly-girl at heart. One sure way to do that is put yourself in an environment where you can let your sissiness shine.
Purchasing sexy lingerie from a cute sales-girl can be a bit uncomfortable at first, but that will pass. Plus, as a sissy, you naturally crave being humiliated so why not embrace that aspect of sissification.
When I find myself in a humiliating situation, whether planned or spontaneous, my sissy clitty predictably responds by twitching in my panties. It's so much fun being a sissy!
But the title of this article is "Sissy Lingerie on the Cheap" and women's retail stores are typically anything but cheap. The majority of them are definitely NOT inexpensive, but a few of them are. So I'm giving you two very good reasons for buying your sissy lingerie locally:
A way to shop that will expose your sissiness in a subtle (or not-so-subtle) way
The potential to find some bargain prices
Types of establishments that comply with both of the above elements are none other than your local thrift store.
Why Buy Sissy Lingerie at a Thrift Store?
The prices are better-than-right AND you'll be hanging out in the lingerie/intimates aisle. The cool thing is that you won't be dealing directly with a salesclerk. Sure, people will still see you, but that's the point.
You need to start conditioning yourself to the fact that you absolutely belong in the women's section of the store. Do it once and the next trip will be easier. You will soon come to the point where you don't give a rat's ass what anyone thinks.
Besides, you could be buying that sexy black bra for your girlfriend or wife; nobody knows or really cares, if you want to know the truth. You will have to deal with a real, live person at checkout but rest assured, they've seen it all… and then some.
Depending on the thrift store, you can find some really nice bras, baby doll nightgowns, camisoles, teddys and negligees. You won't find many (if any) panties however, due to health and sanitary reasons.
The one downside to purchasing lingerie from a thrift shop is that, typically, they won't allow returns. Just try things on before you buy and you'll be good.
Where to Buy Inexpensive Panties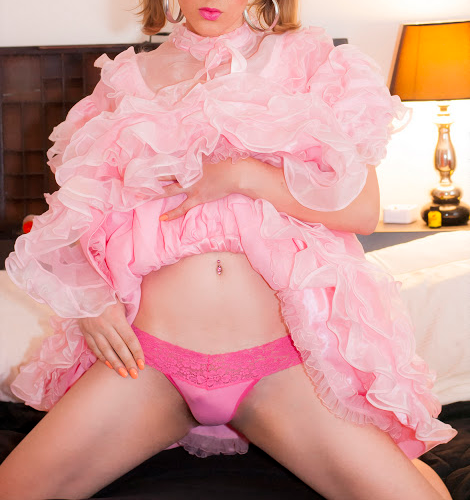 Depending on what state (in the US) you live in, there's a fairly good chance that there is a 24 hour Walmart close to you. You will find plenty of pretty panties to choose from at Walmart. The idea is to go early in the morning when the store is more-or-less deserted, but not so early enough that the the speedy-self-serve checkout stand isn't open yet. That way you won't have to deal with a check-out person.
But even if you have to go through the regular check-out line, please believe me when I say this: Walmart employees do not care! Regardless—just like I mentioned earlier—it's good practice for you to purchase your intimate sissy things from front of a real, live person anyway.
If you're a bit nervous or embarrassed, that's only a sign that you're serious about owning up to your sissiness; and that can be quite empowering.
But if you would prefer to buy your panties online, then I would suggest AliExpress or TheBreastFormStore. Of course there are many, many other places online where you can shop for lingerie on the cheap. eBay and Amazon are, obviously, two of the usual suspects.
What Type of Panties are Perfect for Sissies?
As a sissy, it is so very tempting to fall in love with the most slinky, skimpy and sexiest of panties. I know it is for me. Keep in mind darling that your sissy panties (unlike a genetic girl) will need to possess two attributes: sexiness and functionality. What do I mean by functionality?
In order to achieve that flat, feminine front, you will be tucking your sissy clitty back between your legs, with your balls pushed up on either side. This will require a large enough panty panel in front to securely hold everything in place without allowing your nuts to squish out to the sides. Because of this potential problem, it's wise to buy one pair of panties at a time until you find ones that work best for you.
It's important also to look for panties that have an open-at-the-top panty liner (aka gusset). By that I mean that the liner is not sewn closed at the top end. This design creates a little pouch that you can tuck your little clitty down inside of. For me that means no additional tucking is necessary.
If, however, you want to take a trip to the beach wearing a bikini bottom swimsuit, then you will probably want to tape things up down there. Actually, I wrote an article recently about that: The Sissy Tucking Guide.
So sweetie, if you're willing to delicately step out of your comfort zone—just a little bit—it's very possible to find some absolutely beautiful lingerie that won't bust your sissy budget.
If you do happen to hearken to my suggestion and waltz into your favorite thrift store, bravely heading straight to the lingerie section, please remember this: act like you belong there… because you do darling!
Corsets Are Lingerie Too!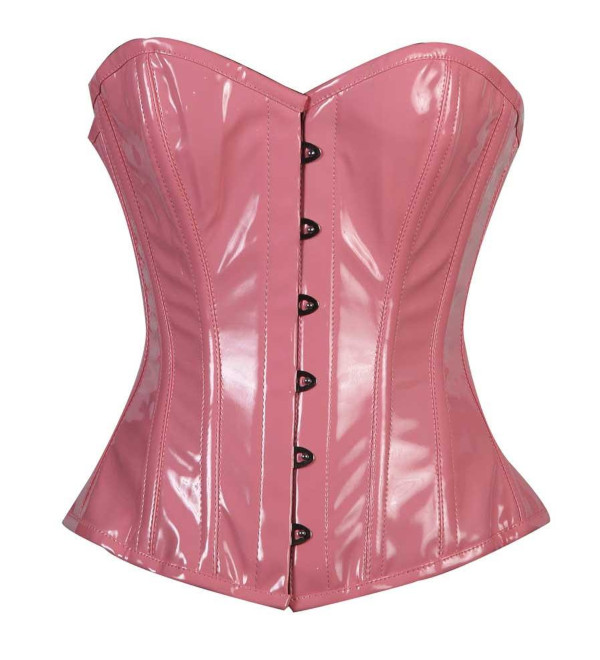 When adding to your intimates collection, don't forget to include corsets and waist cinchers on your lingerie list. Besides being a super-sexy form of lingerie, they will also help you to achieve that much-desired-and-sought-after-wasp-waist. The Sissy Guide to Corset and Waist Training will answer many of your questions about these more-than-alluring underthings.