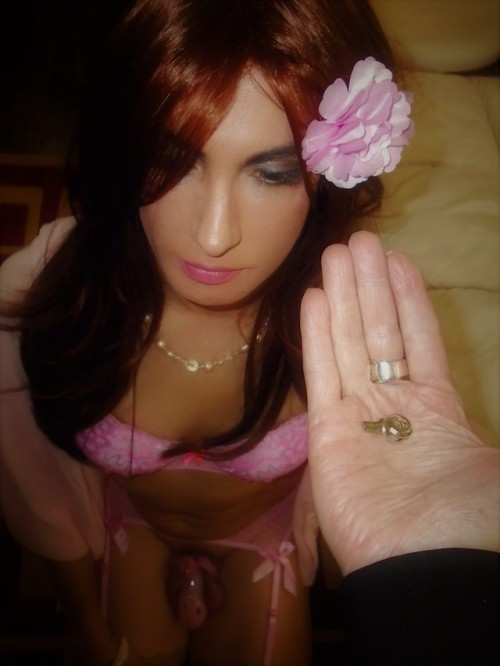 There's little doubt that the most effective way for a sissy to enhance her sissification process is by keeping her (hopefully) tiny sissy clitty locked away in a chastity device.
Delaying—or permanently denying—any form of masculine-type sexual satisfaction will help a sissy to maintain her docile and obedient personality that is so adorably attractive.
That never-ending frustrated state of erotic denial makes for a perfect, and enhanced, sissy existence.
Although there are exceptions, most sissies can't be counted on to willingly keep their little thingy locked away on a regular basis.
Sure, sissies are cute and sexy, but not really all that trustworthy. Keeping what remains of their masculinity under wraps is not something a week-in-the-knees sissy is very good at.
They need some help. That help traditionally comes in the form of another person charged with keeping the key to the sissy's chastity cage hidden away from her.
A chastity keyholder.
Finding a Sissy Chastity Keyholder Can Be Daunting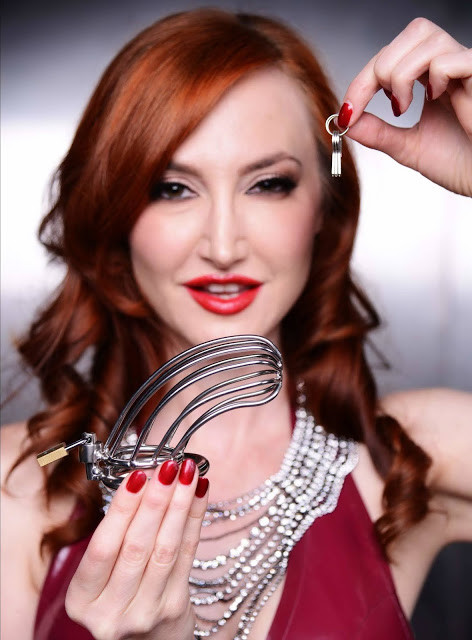 There's a vast acreage of evidence to suggest that it's not so easy to find a keyholder that is simpatico with your specific needs.
The sort-of-sad fact is that the overwhelming majority of sissies do not presently have a Dom or Domme in their life to serve as their keyholder.
The perfect person to take ownership of your sexual desires is certainly out there… somewhere. But until they actually appear your life, it will be necessary to creatively come up with alternate chastity keyholder possibilities.
The truth is that if you are able—by the use of some serious sissy training—to turn yourself into the best sissy you can possibly be, then you will be much more attractive to a prospective dominant, keyholding partner.
There will be much less work required upfront on their part in turning you into a submissive and subservient sissy.
In the spirit of sissification, let's explore some sissy chastity keyholder options.
Sissy Chastity Keyholder Options
One obvious solution would be to find someone local to act as your keyholder. They might be willing to do it just for the fun of it or maybe require some form of reciprocation on your part.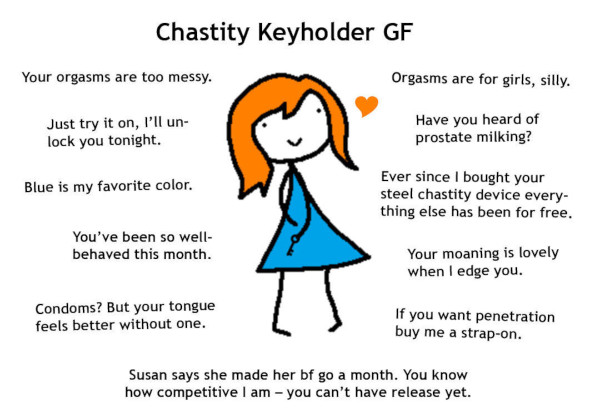 You could maybe scrub their toilet or perhaps clean their entire house.
If the keyholder is a Dom, you could use your tongue on his ass. If she's a Domme, you could use your tongue to polish her high heels.
Obviously there are online, or remote, keyholding options. Dating sites would be a free way. An online keyholding service would be a paid form.
There is a downside of involving a real person as your chastity keyholder that is remote to you—and one that you might not know that well. And that is…
Can you trust them to provide you with the key (or the combination to your key-lock-box) in a timely manner in case of an emergency?
As soon as you involve a real person as part of the chastity keyholder dynamic, it ceases to be a DIY solution.
Why not cut the middle-man-or-woman out of the process completely and make this a genuine DIY method?
The DIY Sissy Chastity Keyholder Solution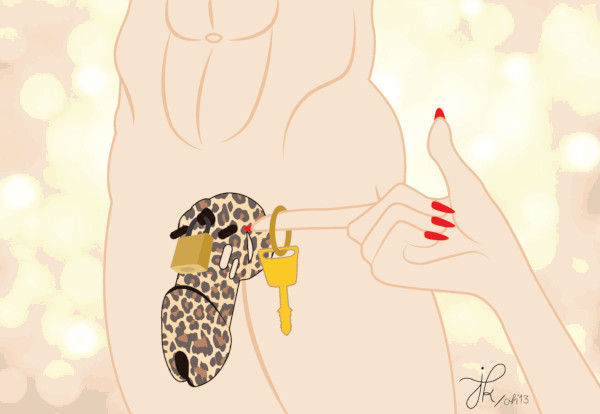 Coming up with a simple solution to this chastity keyholder quandary is pretty straightforward. You will only need four things to make it work.
A chastity device
A combination lockbox
A phone with a camera
That's all that is required. You can use this simple sissy chastity keyholder solution until you meet the keyholder of your dreams.
Or, if you prefer to remain single, you can use this method forever. The choice is entirely yours.
DIY Chastity Keyholder Step-By-Step Instructions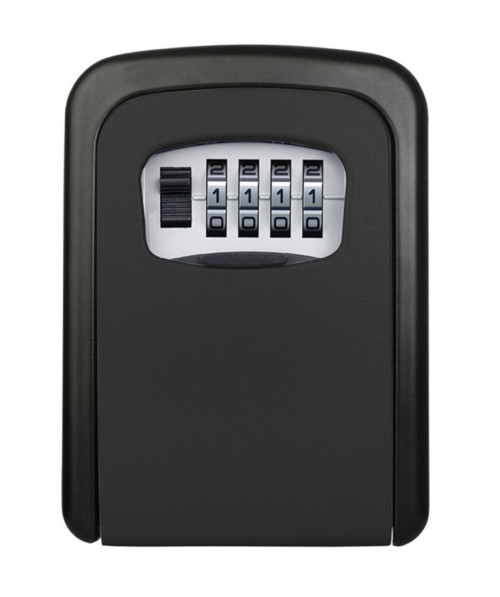 Putting together your own DIY remote chastity keyholder method is a drop-dead-simple, 7 step process:
Buy a combination lockbox (like the one pictured above) to hold the key to the chastity device
Put the chastity cage on yourself and lock it
Place the key to the chastity device in the lockbox
Reset the combination to the lockbox (without looking)
Snap a photo of the combination (without looking)
Upload the image file (photo) to a remote keyholder site
Delete that photo from your phone
For Step #6, I have put together a short list of a few remote keyholder sites over on my Sissy Resources page. Just scroll down to the Sissy Chastity Keyholder section.
I would suggest buying a combination lockbox with at least four numbers. A lockbox with fewer digits would make it easy—although it would still take a while—to break the combination.
There are many types of lockboxes to choose from. Some are sophisticated and pricey. Others are simple and inexpensive.
You will want to become very familiar with the remote keyholder site that you decide to use. Most of them are free of charge but you want to make sure that you know exactly how to get the combination to your lockbox sent to you in a timely manner… when you want it.
If something goes side-ways, you can always either destroy the lockbox or figure out a way to cut the lock off your chastity device. However, if your cage has an integral locking mechanism, you will have to break into the lockbox to get the key.
Turn Sissy Chastity Into a Fun Game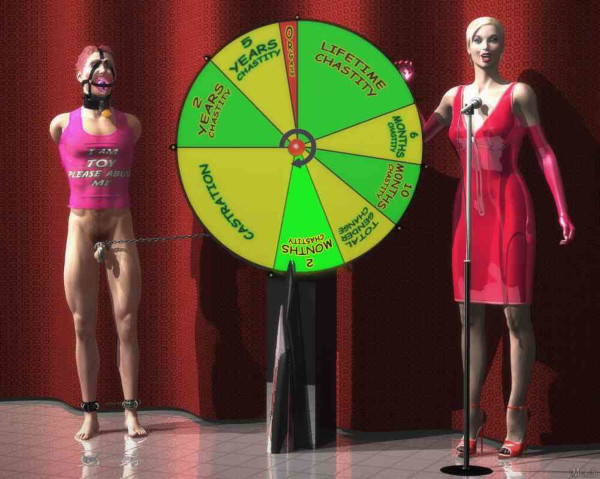 The cool thing about the DIY sissy chastity keyholder concept is that you can make it into a fun and exciting game with you being the only player.
By playing this game you can find out a lot about your sissified-self, including:
How long you can deny yourself
How comfortable you can become wearing a cage
How erotic it can be to explore your other erogenous zones
Long term orgasm denial will change who you are. After a while, you will cease viewing yourself as a man. You will begin feeling and acting more like a sissy.
From my experience, it's a fun and erotically exciting place to be.
Looking to Explore Your Sissification Endeavors Even Further?
Being locked away in a chastity device for any length of time will inspire you to explore other erogenous zones of your body. You may develop the desire to cum like a girl. Cumming from anal stimulation only is called a sissygasm. You can read all about it over here: A Guide To The Elusive Sissygasm.